What are the differences between invisible zippers and non-invisible ordinary zippers? Which is better? Let's find out with me next.
​​
From a professional point of view, the ordinary zipper and the invisible zipper do not say which is better, but it is more suitable to use one of the zippers in some places. To really say whether it is good or bad can only be seen from the difference between the two, a zipper In terms of splitting, it is divided into unilateral cloth tapes, tooth chains, and sliders.
​​
1. Ordinary zippers and invisible zippers of the same model have different frontal textures
​​
The tooth chain cannot be seen on the front of the invisible zipper, and the tooth chain can be seen on the front of the ordinary nylon zipper. The two types of unilateral tapes of the same model are common in some factories. Generally speaking, the invisible unilateral cloth tapes are divided into thin cloths. , Thick cloth and thin lace, thick lace, and nylon single-sided belts are mostly human-shaped and smooth, and some special texture differences, generally designed according to different quality requirements. Different thickness and width.
​​
2. The difference of slider slider
​​
The zipper head of the invisible zipper has only one pull tab from the front, and the structure of the zipper head and the front of the base can be seen from the front of the non-invisible zipper. Under normal circumstances, most of the invisible zippers use water droplets, and most of the ordinary nylon zippers use Pull-down piece or sword tail piece, due to the general market demand and supply, many manufacturers can now install other zipper pieces on the invisible horse hook, forming a variety of pull-tab structures, and now more and more waterproof , reverse wear and so on can achieve different styles.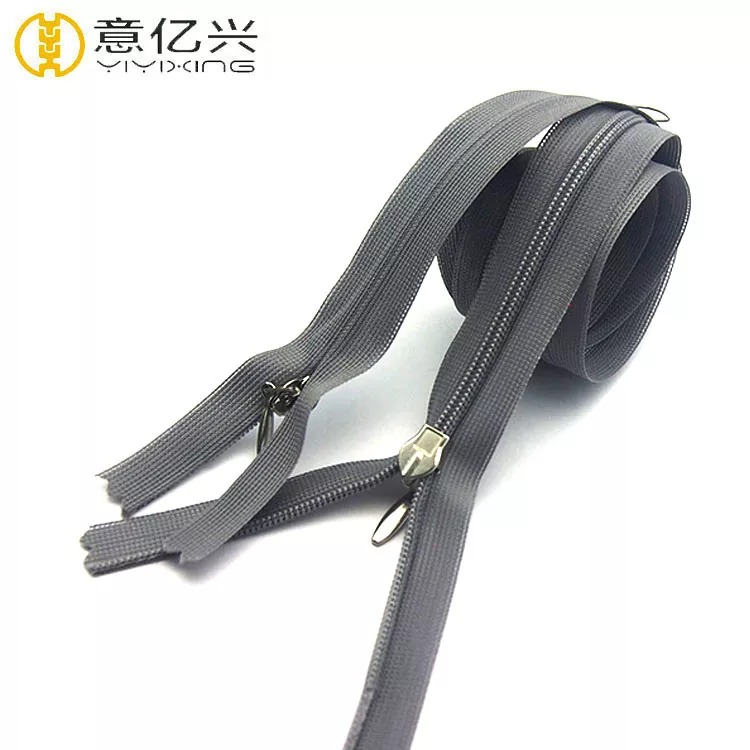 ​​
3. The tail and top structure of the strip zipper are different
​​
The top and tail structures are usually closed tails. Generally speaking, hot melt is used to fuse the tails. The top is made of polyester front wire and the end is stopped by the machine. Most nylon uses metal front and rear wires, and some use heels. Resin material production of closed front and rear yard and open end of the square latch, of course, can also use the invisible rear yard machine to produce the rear yard of ordinary zipper.
​​
Generally speaking, invisible zippers are used in skirts, clothing pockets, and home textiles. Non-invisible ordinary nylon zippers are used in trousers, bags, and home textiles. Which product is used mainly depends on the design of the product. It depends on the designer's choice.