Let us know how to classify metal zippers, according to the size: 3#, 4#, 5#, 7#, 8#, etc. The size of the zipper changes according to the size of the microphone teeth. Since it is often used on jeans, jackets and backpacks, its zipper size is larger.
​​
According to the type: closed zipper, open zipper (detachable),
​​
Double closed end zipper (X-zipper and double puller opposite ends or O-zipper and double puller opposite ends), double open end zipper (reverse opening and detachable) Micro tooth material: Ao Shiqi's existing material type is aluminum Alloy, brass, cupronickel, zinc alloy, etc. The color of metal microphone teeth is often plated according to needs, such as aluminum microphone teeth plated with yellow, brass microphone teeth plated with white, black nickel, green bronze, red bronze, gold and other colors. The composition is the same as other zippers, and the composition of the metal zipper is also composed of a slider, a cloth tape, a microphone tooth, and a limit code.
​​
Puller: The colors of the metal puller include green bronze, red bronze, white plating, yellow plating, black nickel, black and white nickel, and matt silver. Usually, the color of the metal slider is required to match the microphone teeth of the metal zipper. Same color. According to the regulations, the commonly used slider parameters are: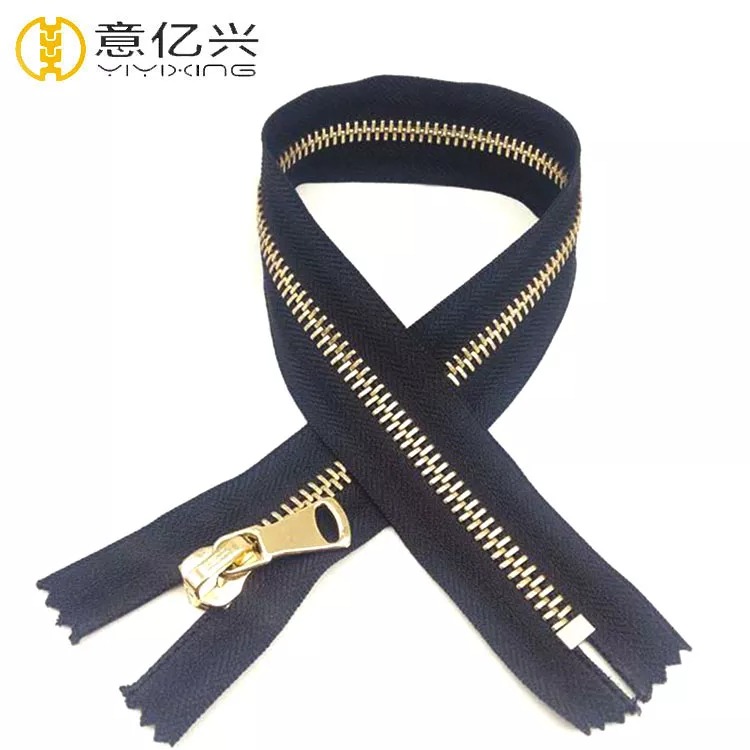 ​​
The mouth height of 3# metal slider is 2.1-2.2mm, and the mouth width is 4.55-4.65
​​
The mouth height of the 5# metal slider is 2.7-2.8mm, and the mouth width is 6.0-6.05
​​
Cloth tape: The material is generally fiber tape, cotton webbing or polyester fiber tape, etc. Different materials can be selected according to different purposes.
​​
Microphone: The metal zippers on the market are mostly made of aluminum alloy, brass, cupronickel, zinc alloy and other materials. Since the color of the microphone teeth on the metal zipper is electroplated, if it is not stored properly, the microphone teeth will turn black. And it will pollute the fabric. The copper alloy microphone teeth are prone to oxidation, so ensure a certain degree of ventilation during storage, do not store them in a sealed container, and do not store them in a humid environment. Use moisture-proof paper or dehumidifier if necessary.
​​
Limit code: divided into upper stop (front code) and lower stop (last code). The main function of the upper and lower stops is to prevent the slider from being separated from the microphone teeth.

I hope the above content is helpful to you, and can better classify metal zippers.