What are the benefits of choosing metal zippers
1. Sensory analysis of the benefits of metal zippers
​​
In the field of textile light industry, clothing made of metal zipper clothing accessories is qualitatively different from other zippers. Metal zippers feel practical, strong in texture and elegant in appearance.
​​
2. Analyze the benefits of metal zippers from application
​​
Metal zippers have a wide range of applications, including clothes, shoes, bags, etc. Take the luggage, shoes, coats, windbreakers, etc. that we usually travel abroad as an example. Most of them use metal zippers. The reason is that they need durable things. Metal zippers have high metal hardness and high durability. Compared with other material zippers, they are comparable. Sex is low.
​​
3. Analyze the benefits of metal zippers from the perspective of safety
​​
The use of zippers of different materials in life is different, resulting in different scope of application. For example, a bag with a combination lock uses all metal zippers on it. Because the metal zipper has a strong lateral tension, it is not easy to be damaged and has high safety performance.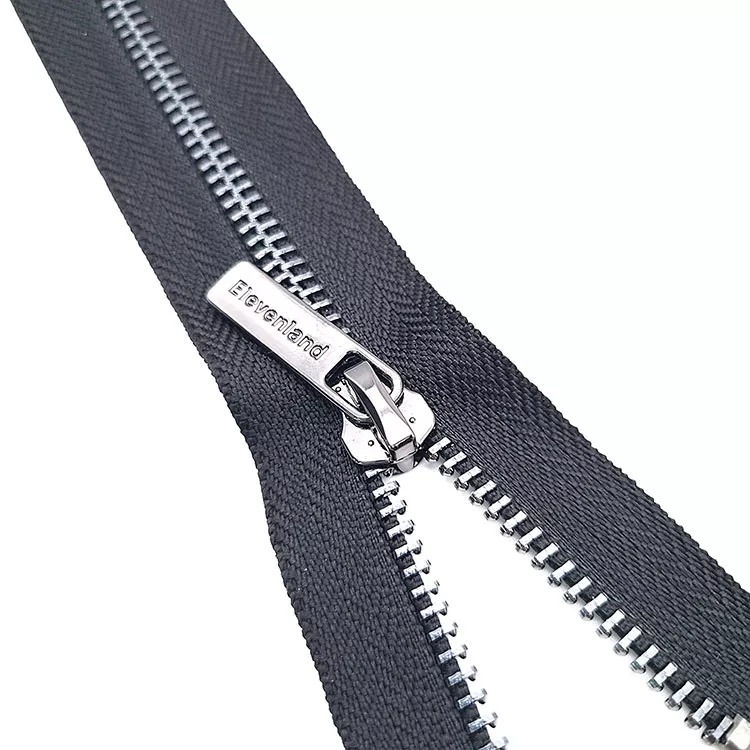 Maintenance of metal zippers
The scientific use of metal zippers:
​​
1. When pulling the metal zipper, the teeth on both sides must be approached first, the top must be aligned, and then the metal zipper head must be pulled gently along the track, and cannot be pulled too hard.
​​
2. When moving the metal zipper head, be careful not to twist the placket or cloth edge into the metal zipper, so as to avoid the phenomenon of "skewed teeth", "broken belly", "tooth loss" and so on.
​​
3. If the metal zipper is astringent and difficult to pull, do not pull it hard. You can apply some wax or soap on the metal zipper to pull it.
​​
4. If the unilateral teeth of the metal zipper head diverge and become loose due to wear and tear, you can use ordinary Shanjun pliers to gently clamp the closed end of the metal zipper head horizontally.
​​
Prevents metal zippers from moisture, oxidation, rust and discoloration.
​​
1. Avoid contact with wet environment: Because the metal zipper will turn black due to metal oxidation and dyeing.
​​
2. Avoid contact with the rubber band: Because the rubber band itself contains sulfide, when the metal zipper is bundled with the rubber band, the metal teeth will be vulcanized (blackened).
​​
3. Wash and dry in time after washing: Because the dyes or residual chemicals in the fabric have redox reactions with metal parts, it may cause discoloration of metal parts.