The invisible zipper is divided into No. 3 and No. 4. It is composed of fastener elements, sliders, limit codes or locking pieces. The key part is the fastener element, which directly determines the strength of the side pull. It is mainly used for the side of the skirt of women's clothing. And the back, today Xiaobian will explain to you the advantages and disadvantages of invisible zippers, let's take a look together.
​​
Advantages of side invisible zipper:
​​
1. The selection of sliders is generally only in the shape of water droplets, and sliders of various shapes can also be made according to requirements. Now, sliders of various shapes can be generally produced.
​​
2. It can be applied to thinner fabrics. For skirts or chiffon shirts, you can choose a thin lace edge as a tape on the side.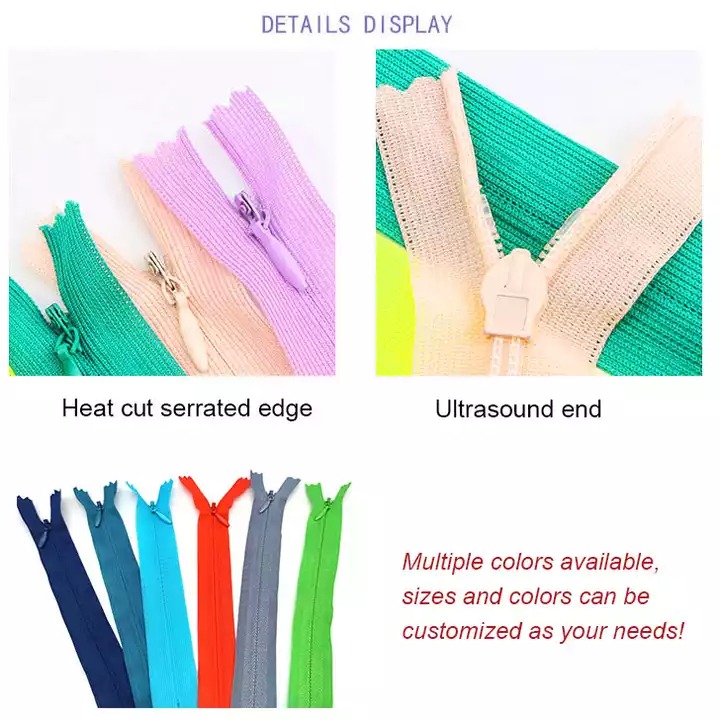 ​​
3. The upper and lower stops can be selected from ordinary sonic tolerances and U-shaped codes, and a variety of choices can be more beautiful and practical.
​​
4. The aesthetics are stronger than those of other products, because the side for clothing, especially the side, normally sees stitched lines, no exposed teeth, and invisible just meets this requirement.
​​
Disadvantages of side invisible zipper:
​​
1. The upper and lower stops can sometimes not be pulled to the root.
​​
2. The production cost is higher than that of common nylon products of the same kind, whether it is a slider or a cloth belt.
​​
3. In nylon products, the output of invisible zippers is relatively low. The same general output of the same equipment can only reach 1/3, and some can reach 1/2.
​​
Each choice will have advantages and disadvantages. After balancing the advantages and disadvantages when choosing, most of the choices will determine the market.