Zippers are indispensable for many clothing items, especially on the most beautiful clothing, zippers are indispensable. As a common clothing accessory, zippers also bring great convenience to people's lives, such as resin zippers and zippers. Nylon zipper is one type of zipper. Many people are curious about the difference between resin zippers and nylon zippers? Which one is better? Today, as a zipper manufacturer, I will share with you what are the differences between resin zippers and nylon zippers? Which is better?
1. The specific difference between resin zipper and nylon zipper:
(1) Material distinction:
Nylon zipper is made of polyester fiber material, English polyester, regardless of tape, dense teeth, stitches are polyester fiber; plastic zipper, professionally speaking, is actually a resin zipper, English name Resion, plastic particle molding, injection molding .
(2) Production mode:
Nylon zipper is made of polyester thick filament spirally formed, and the mesh teeth are sewn with cloth tape; the plastic zipper is made of polyester material particles melted at high temperature, and the mesh teeth are injected into the cloth tape through an injection molding machine to form a zipper.
(3) The scope of application and actual indicators are different:
Nylon zipper has a tight bite, tight bite, extremely high strength, resistance to bending more than 90 degrees, and the strength is not affected. It is generally used in luggage, tents, parachutes, etc. Wide range of applications.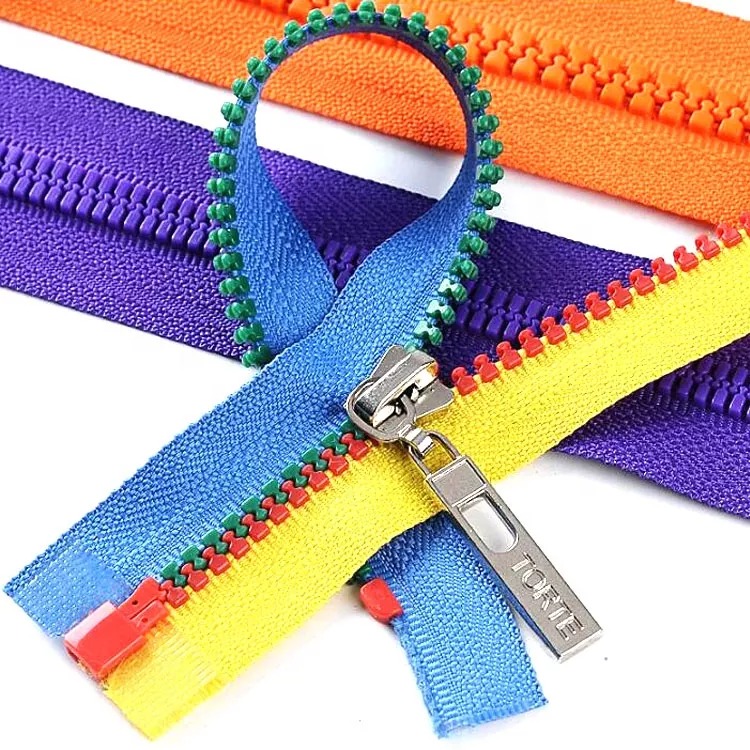 2. Which one is better, resin zipper or nylon zipper?
Resin zipper features: Resin zipper is hard, wear-resistant, corrosion-resistant, rich in color, and suitable for a wide range of temperatures. In addition, because the upper and lower planes of the chain teeth are large, diamonds or gems are inlaid on the plane, which makes the zipper more beautiful and luxurious, doubles its value, and becomes a practical craft decoration.
Resin zipper: Due to the large particles of the chain teeth, it has a rough feeling, and the lightness of its zipper is slightly worse than that of similar models (nylon zipper, metal zipper) (slightly inferior to other types).
From the above sharing, you should actually be able to see it, right? In fact, whether it is a resin zipper or a nylon zipper, no one is better, only more suitable. For example, resin zippers are suitable for clothing with thicker fabrics, but nylon zippers are not. Therefore, it is reasonable to choose the material of the zipper. In order to improve the overall appearance of clothing. How did you learn the knowledge of zipper? Are you more familiar with the difference between resin zippers and nylon zippers? If you want to buy zipper, please contact our YYX zipper manufacturer!